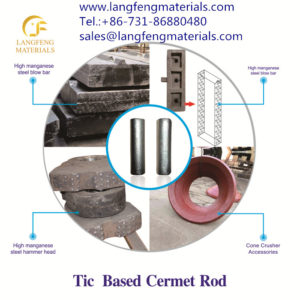 TM52 taitanium carbide steel bonded rods VS cemented carbide rods:
First of all, TM52 carbide-based titanium carbide cermet carbide rods cost is far lower than cemented carbide rods; Secondly TM52 titanium carbide steel bonned rods and high manganese steel substrate combined together, could play its greatest role . While cemented carbide rod could worked with both high manganese steel wear parts and high-chromium wear-resistant wear parts. Thirdly different processing methods, titanium carbide steel bonded rods are casting process, cemented carbide is generally mosaic process.
For more information please link:www.langfengmaterials.com,please contact us as following:
Skype:cslfjoselyn
Wechat: 563302383@qq.com
Tel: +86-731-86880480
Fax: +86-731-86880490
Sales department: sales@langfengmaterials.com
Add: No.98 Tianxiong Road, Furong Area,Changsha,Hunan province,China.