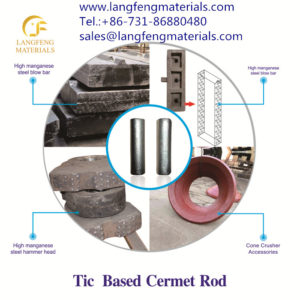 TM52 Steel Bonded Titanium Carbide Rod, which contains a hard phase TiC and a bonding phase high manganese steel, wherein the bonding phase contains, by weight, Ni, Mn, and the balance elements.  Hardness  HRC 60-62, denstiy 6.2 ±0.2 g/cm3. TM52 steel bonded titanium carbide rod is widely  used in mining industry, especially on high manganese steel crusher hammer with 1.5-2 times longer service life.
For more information please link:www.langfengmaterials.com,please contact us as following:
Changsha Langfeng Metallic Material Co., Ltd.
Tel: +86-731-86880480
Fax: +86-731-86880490
Skype:cslfjoselyn
Wechat: 563302383@qq.com
Sales department: sales@langfengmaterials.com
Add: No 98 Tianxiong Road,Furong Area,Changsha,Hunan province,China.