This product possesses high temperature oxidation resistance, high strength, high hardness, good thermal conductivity and toughness. Also, it is an important structural material; In addition, zirconium carbide powder has a high visible light absorption, excellent infrared reflectance and large energy storage characteristics and so on. zirconium carbide can be used in new type of insulation textile products.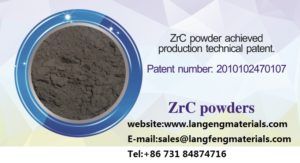 In our domestic market, zirconium carbide powder has been applied in the field of isolation textile fiber, oil product like PE.
If you have this kind of need, please contact us via we-chat or whats app: +86 15084863965.
https://www.youtube.com/watch?v=XrKS78xIn64
Zirconium Carbide Powder (ZrC) Applications:
Zirconium carbide can be used in new insulation thermostat textiles, nylon, fiber, hard alloy, nano-structured parts and devices: such as metallurgy, chemical industry, machinery, aviation, aerospace and energy industries using high temperature and corrosion resistant; The surface coating of metal and other materials; Composite materials: such as the fabrication of metal matrix, ceramic matrix, polymer nano composites; Sintering additives, grain refining agents or nucleating agents.
For more details, please contact us
Changsha Langfeng Metallic Material Co., Ltd.
24 hours on line We-Chat & WhatsApp:
Rachel Chau: +86-15084863965
Tel: +86-731-86880480
E-mail: sales@langfengmaterials.com