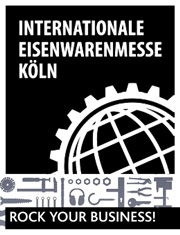 " The Cologne Hardware Tool Fair" will be held in Cologne, Germany, March 6,2016.This show is the forty-first Hardware Fair in Cologne, Germany, inviting foreign and domestic hardware tools manufacturers. Aims to show the latest hardware tool on-site as well as communication face to face ,to enhance further cooperation between manufacturers and buyers.
International Hardware Fair Cologne first time in 1952, is the largest international most influential event hardware industry's, representing the international development and top quality.No other Exhibits show such a comprehensive and complete coverage of product range,International Hardware Fair in Cologne, now and in the future are the most competitive and leading fairs around the world in this industry.
Changsha langfeng metallic material co.ltd as a professional manufacturer of metal cutting tools are also invited to participate in this exhibition,stand number:3.2 C074.During the three-day exhibition will show the company's latest product: carbide tile cutter wheel, glass cutter wheel, titanium carbide ceramic rods, titanium carbonitride cermet rods, metal ceramic coating with high-speed steel taper shank twist drill and carbide powder so on.

Changsha Lang Feng Metal Materials Co., specializes in producing taper shank, straight shank, double high speed steel twist drill.Using cutting portion integrally molded with the blade grinding process, the surface finish, dimensional stability, effectively reducing the friction coefficient and improve the processing efficiency.It also can be customer demand for special wear-resistant ceramic coating (Ti / Tan Black / White).Our product-high-speed steel twist drill can be used for cast iron, 45 # steel, free-cutting steel, general steel, alloy steel, copper alloy, aluminum, graphite, wood, glass fiber, cement and other materials of drilling, but also for processing center, drilling, milling machines, hand drill, hammer and other processing equipment.
Date:from 6 to 8 March 2016
Held location:Cologne International Exhibition Centre Germany
Contact person:Lula
Phone: 0086-731-84874716
For more detail: http://www.langfengmetallic.com/