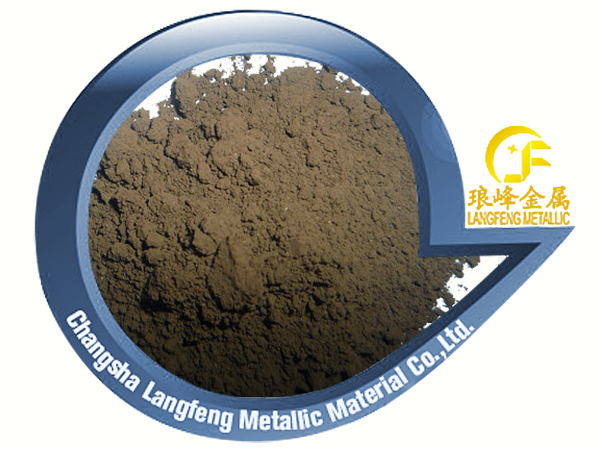 ►Changsha langfeng Tantalum carbide powder introduced:
Tantalum carbide,Chemical formula TaC,Molecular weight 192.96,Carbon content 6.224%,Density 14.3g/cm3 ,Melting point 3875º C,Boiling point 5500º C.Tantalum carbide is brown powder with high chemical stability and favorable high&mdash temperature character.It is hard and heavy.Fine TaC powder is an important cermet material.The cutting tool made of it,having a hardness similar to the diamond,can offer resist high temperature lower than 3800º C .As an additive of fine crystalline grain to WC hard alloy,TaC powder can improve notably the performance of alloy .
Tantalum carbide application:
Uses in the powder metallurgy, the cutting tool, fine ceramic, chemistry gas phase deposition, the flinty antifriction metal cutting tool, the tool, the mold and the wear-resisting anticorrosion structural element chemical additive, enhances the alloy toughness. The tantalum carbide sintered body demonstrates golden yellow, may make the wristwatch ornament. In addition may apply in the flinty thin film, the target material, the welding material, the spray coating material and so on.
As suppresses the alloy crystal grain growth and the improvement organizational structure TaC which, NbC, Cr2C3, VC increases for the main application and so on rare metal carbide, no matter is produces the macrograin like mine tool or the dowel and so on ultra-fine grain alloy, should choose Fei the granularity low rare metal carbide, because increases the rare metal carbide is micro, it is only adjusts the WC granularity and the improvement organizational structure function, thus, hoped that the chemical additive thinner dispersion effect is better the line. Especially to the dowel and so on ultra-fine grain alloy, if the chemical additive is excessively thick, instead will form the alloy to clamp thickly, that will certainly not be suitable.
Stay tuned for detailed product information company official website: http://www.langfengmetallic.com/